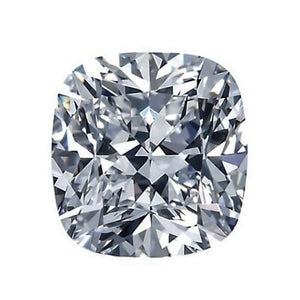 *Please note - due to the fact that we cut each and every Moissanite to order we can't sell them individually. 
Our Cushion Brilliant Cut Moissanites are the perfect mix of Round Brilliant and Princess cuts. With its pillow like shape it appears delicate while giving life and shine. By far the most popular setting for the Cushion Cut has been in a Halo. 
We let you create your own unique ring by choosing a Moissanite and Setting. All our Jewellery is custom made in your size and using real natural Diamonds of F Colour and VVS Clarity to perfectly accompany our Amazing Quality Moissanites.
All our Moissanites are hand selected by our qualified Jewellers and they come in a DEF colour range (colourless) and VVS clarity (totally eye clean). They also come with a certificate of authenticity and Free Valuation. 
Choose between our Brilliant Cuts or the super popular Crushed Ice!!!
Check out some of our comparison videos via Face book & Instagram. Clink on our Social Media links at the bottom of our page.